FIFTH STUDIO ALBUM FROM AUSTRALIA'S OWN ALT. COUNTRY ALCHEMISTS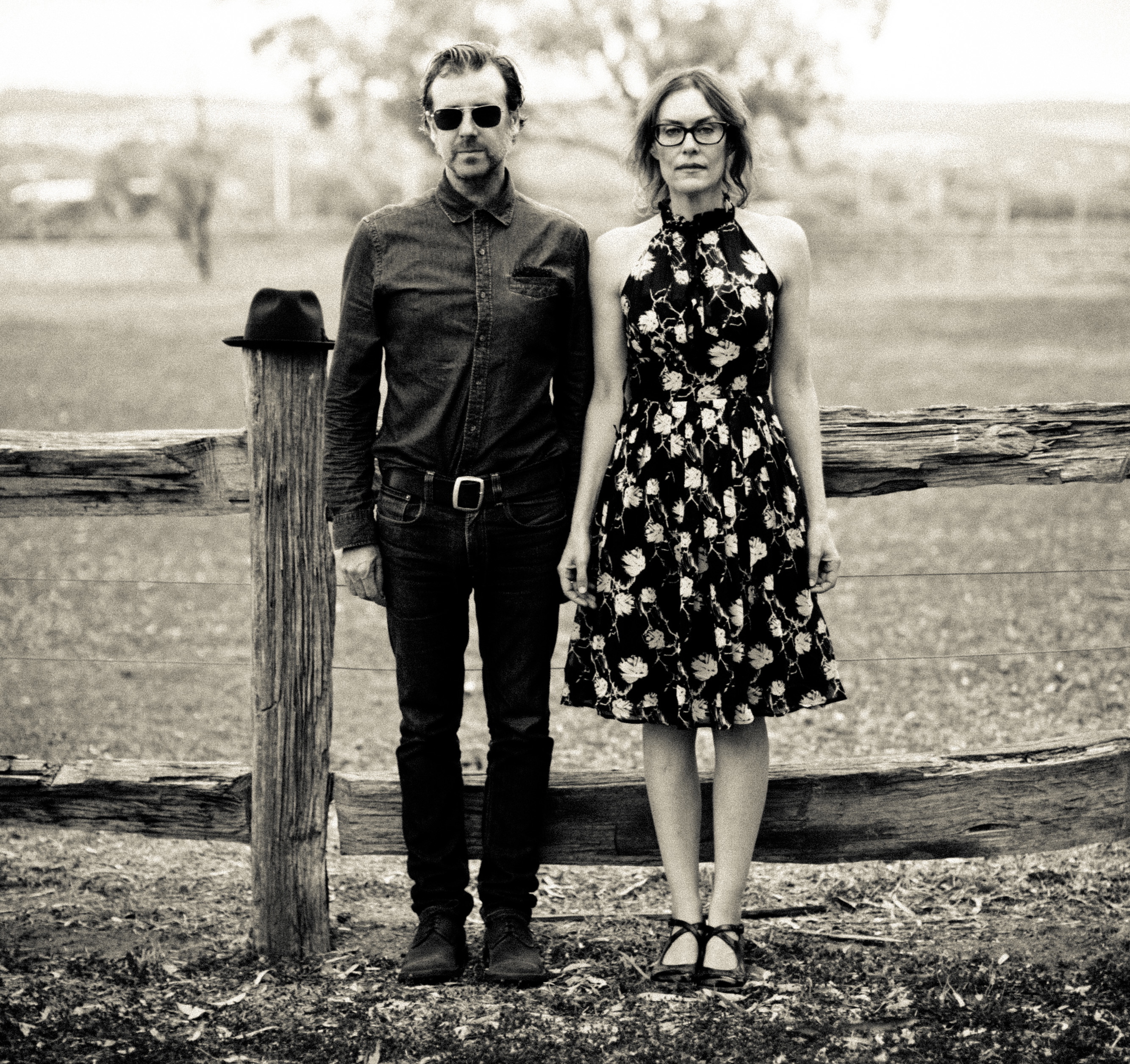 "From the barefoot waif in freezing Memphis to that unreachable horizon where parallel lines meet, The Yearlings are back on the yearning track, hauling the throb of bittersweet sorrow through vast silence …hope lies in the holes of this long, haunted music."      Philip White

A lot can happen in twelve years. Some relationships grow weary and worn, but for Adelaide duo The Yearlings (Robyn Chalklen and Chris Parkinson), passing time has only distilled their unique brand of Australian alt. country, steeped in Americana traditions.
After spending the past four years sharing their brooding ballads, rolling roots and haunting harmonies with local and international audiences, The Yearlings have returned with their fifth studio album, ALL THE WANDERING, a ten-song collection which showcases their quiet evolution.
Dark and sparse, yet full to the brim with imagery and atmosphere, ALL THE WANDERING was recorded to 2-inch tape on a vintage Studer 24-track tape machine; its soul every bit as old as the machinery on which it was captured. Evocative stories of country, travel, love and longing are cradled by the subtle, yet substantial grooves of bassist Harry Brus (Renee Geyer, Jimmy Barnes) and drummer BJ Barker (Kasey Chambers). There is more diesel in the tank, but The Yearlings' trademark fragility and spaciousness remains, masterfully captured by iconic Adelaide sound engineer Mick Wordley.
ALL THE WANDERING is bookended by two standout tunes: the expansive, yearning title-track 'All The Wandering' and the pensive, horn-infused 'Breathless Eric'. The eight songs between seamlessly shift with a calm, unifying conviction from the gentle, encouraging 'Heart of It All', the swaggering and wistful 'Soldier's Fortune to the dark and distorted 'Way Out East' and mesmerisingly drowsy 'Valley of the Souls'. 'What Becomes of Love' may just be the hidden hit with its languid, perfect harmonies and bittersweet, timeless lyrics. ALL THE WANDERING is an album that will sweetly haunt you far beyond its end.
"We wanted a 'widescreen' sound for this record: fat drums, a female choir, horns and clear acoustic guitars so it would drip with atmosphere," says Chris Parkinson.
ALL THE WANDERING by THE YEARLINGS is due for release on Tuesday 10 June through Vitamin Records. The Yearlings will be touring major cities and regional centers throughout July and August. 

"Brooding, country folk. Chalklen's voice can haunt you for days."
- Bernard Zuel, The Sydney Morning Herald
"The Yearlings express the lyrical truth of storylines about real life that poetically tug at the heartstrings."
– Jimmy Little 
 
Rhythms Magazine review, Marty Jones
I know I'm not the first to proclaim that this is the record I've been waiting for
The Yearlings to make. Which isn't to say none of the other records they've made over the past decade and a bit aren't good, just that none quite captured the danger that could be glimpsed in their live shows.
For there's just as much danger is silence and space – actually more when you consider that fear fuelled by the unknown. And The Yearlings have always exhibited a predilection for space in their music, much like their unavoidable influences Gillian Welch and David Rawlings. But that space is always more effective when you never quite know what's coming next, and when there's a tone of menace lurking. All The Wandering presents that darker cusp of The Yearlings, gathering the elements they've built their name on, but adding some "gravel" as engineer Mick Wordley called it – some lithe sonic muscle, with horns, BJ Barker on drums, and Harry Brous a significantly propulsive addition on bass. But also some gravity in the songs themselves. At the core of this, 'Way Out East' is dense and dark and electric, its album mates inevitably orbiting around it. With a grinding electric solo, the song is one of the band's most intense statements to date.
The duo – Robyn Chalklen and Chris Parkinson – also inhabit their own voices with greater conviction than ever before. That can partly be attributed to that gravity – melodic, thematic, and sonic. But each also seems to be gaining a greater awareness off his/her own strengths – and, more importantly, limitations – and how best to employ them.
'Blue Sky Boy', located at the assassination of Martin Luther King, and 'Way Out East' are two of Parkinson's most powerful compositions to date. 'All The Wandering' opens the record like something belonging to Emmylou Harris's canon, and Chalklen's 'Valley Of Souls' and 'What Becomes Of Love' are genuinely haunting – delicate but ringing with eloquent portent.
To cap things off, Wordley has nailed the balance between sonic quality and live-room intensity. Martin Jones

Is All The Wandering a progression or a giant leap for The Yearlings?
No I see it as a progression more than a huge step, definitely. And it could have gone either way as well. We could have approached it differently and then maybe it wouldn't have been the record you've been waiting for. Who knows? We actually recorded that whole album as duo last winter at our place. And that sounds really good, too. But was we were recording it as a duo, we were just starting to hear all this other stuff. So that was the beginnings of thinking about doing it again and going up to Mick's and maybe just tightening up some arrangements and making it fatter and bigger.

The extra weight of the horns and Harry Brous on bass is all apparent, but I was struck by a greater authority in your voices.
I'm not sure, but it might have helped having recorded that album twice. Possibly, I don't know. I think we're just getting more comfortable these days with our voices. 'Cause neither of us has a strong voice, it's not like we're ever going to go on The Voice and sing or anything like that. And even amongst our peers we notice that our voices are littler in comparison (laughs). And it's fine and it is what it is, but I think now that we're used to it and a little bit more down the track we can make it our own.

Mick Wordley is renowned for focusing on the spirit of the performance first and foremost. Did you have to mediate that a little, focus on the tone and the notes as well?
(laughs) Well I really do trust him. There are times when we'll just do another take anyway. You've heard this a million times before, but it's often within the first three takes that you get something. Usually with us it's number two. And we've definitely learned from Mick to just go for the spirit
of the thing as well. There's definitely loads of imperfections on this record if I listen close, but there's this feeling that you really do go for. I mean
all that early influence stuff, like Jackson Browne and things like that, to me that's a feeling as well. But I think sonically we worked together on this record hard. I think I was more concerned with sonics than anything else really. I think the takes went by pretty well because Rob and I knew the songs pretty well and the guys were just on it. But it was just working on tones and sounds and trying to make it sound, I guess, just deeper and with a few more hidden secrets than other albums.

Well you have developed your own sound. There's always a lot of space in, which you guys play off well.
Yeah I guess you're right. Yeah, I just like to hear air. It's that classic term, 'Make space the final frontier.' (laughs). Definitely, I love to hear air and space and nothingness a lot.

I can equate that space with the vast open spaces of South Australia.
Yeah. Yeah for sure. Our view from our house is just like that. We've got this view that goes down a paddock, over a horse field and then the Mount Lofty Ranges in the background and down to the right is an expanse of beach. And I'll always, whenever I listen to music, I'll put on a piece of vinyl or something and I'll look out that window... and it just kind of works. So even recording this record and listening back to tapes, it really does help me to visually look out that window... it does, it's a picture and music all at once. I think you're right. I definitely think where you are creates a sound. Definitely. I mean think of Nashville – there's a sound. Memphis – there's a sound. Melbourne, Sydney.

'Way Out East' is an important core to this album for me. It's an intense statement against which everything else is measured.
Yeah it was sort of hard to know where to place it. But it is a big statement that song. I don't know what it's saying, but it's definitely different. And it's got more electricity. Definitely edgier than probably anything we've ever done. But I see that as probably a pretty big development and something that we could draw upon and work with and making something more of further on down the track. And that's all happening organically, no one's planning any of this. It's all song by song, whatever comes out. But being in the middle of the record is really good because the next song that comes in, 'For Too Much', is totally the opposite. Who knows, we might end up doing a full on crazy horse record at some stage (laughs).
 
 
ALL THE WANDERING
THE YEARLINGS
****
After 15 years together, this Adelaide duo can be forgiven if their latest album sounds a little world- weary. Fact is the Yearlings predate alt-country's rise to fashion in the early 2000s, and thus their measured, sophisticated Americana has a sense of authenticity (something other Australian acts in this realm often lack). The quiet maturity of
All the Wandering, and its hints of Whiskeytown and Gillian Welch, is entrancing. Unsurprisingly, God (on 'Blue Sky Boy') and the down-and-out ('For Too Much') are consistent themes on the album. And, just when things seem a little too somnolent, a track like the superb 'Way Out East' emerges, with muddy electric guitar (think early Wilco) to add a more restless energy. The album could use a bit more of that, yet Chris Parkinson's strained vocals in partnership with the wispy tones of Robyn Chalklen brilliantly anchor this sleepy statement. BARNABY SMITH
 
Here's a review of our show with the Punch Brothers at The Adelaide International Guitar Festival - Festival Theatre, 10 August 2012.

Opening act local alt. country duo The Yearlings were my highlight of the night. Beautiful songs played perfectly and straight from the heart is what we were handed. It's hard to beat music presented in this way.

With the addition of upright bass for the half hour set, the sound was warm and well rounded. Robyn Chalklen's vocals and acoustic guitar were subtle and perfect as usual.

It was, however co-vocalist and guitarist Chris Parkinson's night to shine. By far and away the best guitarist in Adelaide, Parkinson played his vintage electric guitar with sublime touch and skill, with liquid notes and wavering tremolo effortlessly filling the vast space of the Festival Theatre.

'Sweet Runaway', the title track of their latest recording, was breathtakingly beautiful and very well complemented by some newer tunes, including 'Plain Gold Ring'. Banjo led 'Wildflower Girl' was also a real treat.
The Yearlings fly the flag for those that believe the true beauty of music comes from the heart, not the hype. May they continue to do that for us.

Ross Colin, Music SA

Live review from The Wheatsheaf Hotel Sept 2014, Gary Brown.