2 songs by The Yearlings "Pretty little Girl" and "Wildflower Girl", appear on the Australian motion picture, One Eyed Girl.

click on the pic to go to their Facebook page
 
THE YEARLINGS - All the Wandering (Vitamin)
****1/2
 
Some records arrive on a wave of hype.
From the other end of the spectrum is this new album from Adelaide duo The Yearlings, which arrived on my desk without fanfare inside a plain-looking cover.
But when you open up the package you find a richly detailed booklet inside the sleeve.
It looks great and feels beautiful in the hands as you flick through. Veteran Australian bassist Harry Brus uses 30-year-old La Bella flatwound strings, it informs us. The people who care about such things, and that the album was recorded on a 24-track tape machine in an age when most people use digital, will find much to reward them when they play the music.
It has the same feel as the cover: a little stark at first, slowly opening up to reveal the same kind of loving attention to detail. And one of the best roots rock records I've heard from Australia, or anywhere, this year.
The core duo is Robyn Chalklen, who plays acoustic guitar and shares vocals with Chris Parkinson, who plays most things with strings on (and '50s Fender amps, the booklet notes).
 
The album opens with the lonesome title tune, with lines like "Every sinking sun going down/Every lucky star, each candle blown/All the wishing I have ever done''.
Parkinson's stinging electric guitar lines nestle in close to Shane Reilly's slow-mo pedal steel swells.
It's an extraordinarily powerful song, and of course any artist would want to put something that good first. What the casual listener might not be expecting is that they have another nine songs of a quality to back it up.
Parkinson takes on the lead vocals for Heart of It All, which might be addressing the same defeated character as the opening tune.
Heart of It All is one of several tracks that feature brass, the kind of arrangements which could have once graced a record by The Band. Full of regret, yet somehow reassuring to hear something so solid, so timeless, amid all this uncertainty and sorrow.
The horns are there, suitably enough, on Blue Sky Boy, since it's a Memphis story, complete with a gospel-charged backing choir. It could be The Sweet Inspirations on an Elvis Presley record, although in this case among their number are Chalklen, Taasha Coates and Sara Tindley.
Things take a darker turn on Way Out East, sung by Parkinson, with room for a lengthy electric guitar solo from him. Here's something you don't see in record reviews anymore, but that solo is great. Think Cortez the Killer and you're in the ballpark.
Oh, and Valley of Souls, as tender and bruised and beautiful a song as you will hear in 2014.
If you've loved any of the country-rock records I've reviewed this year, from Halfway to The Mastersons, trust me on this. You should hear All The Wandering.
 
 "Skeins of tattered faith from the Never-Never … windblown plains and the quiet roar of the giant Aussie sky … bleak headlights drilling dust and drizzle … driven by a rhythm from somewhere between the windscreen wipers' pulse and the exhausted, determined heart."
Philip White
The Yearlings were coming up to the top of their set in the gloaming chill and they sounded very different.
Rob Chalklen had let the steeltrap precision of the old Martin dreadnought go to return to the softer wood and honeyed sweetness of a big old Gibson, whilst in the US tour Parks found a vintage Gibson archtop with voodoo wiring that replaces the old honey fuzz of the Danelectro with pure golden syrup. Parks is wallowing! Shit it's sweeeet. They're so sweet. The Yearlings just changed gear. I wonder who their new songs will be? Can't wait.

And I must reiterate: I reckon Rob's as good as rhythm guitarists get anywhere on Earth. She plays like a geological epoch. Masterly. Not even going near that haunting voice. Which only haunts when we need haunting. Love youse.
Philip White
An excerpt from http://drinkster.blogspot.com/
       FIFTH STUDIO ALBUM FROM AUSTRALIA'S OWN ALT. COUNTRY ALCHEMISTS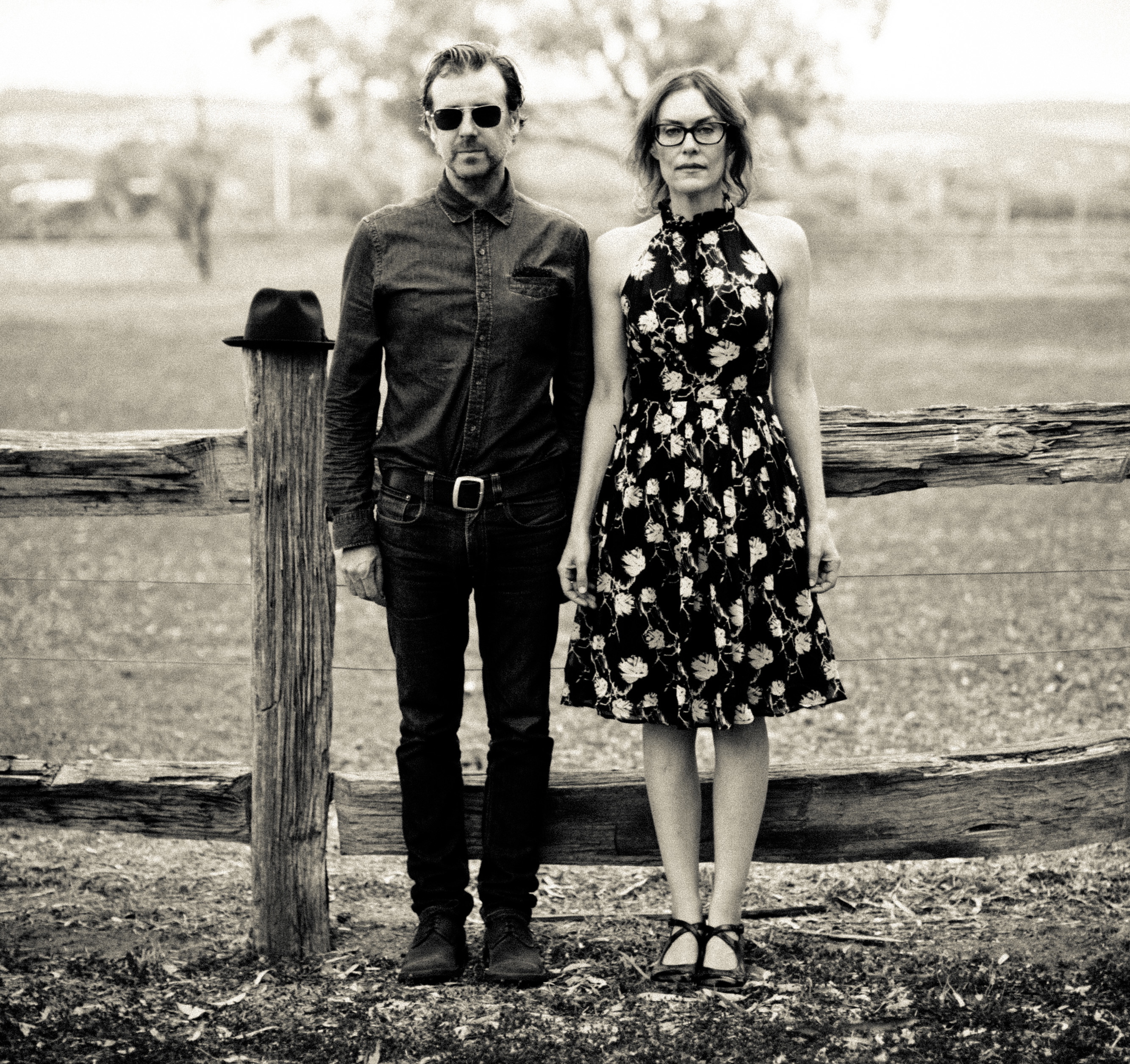 "From the barefoot waif in freezing Memphis to that unreachable horizon where parallel lines meet, The Yearlings are back on the yearning track, hauling the throb of bittersweet sorrow through vast silence …hope lies in the holes of this long, haunted music."      Philip White

A lot can happen in twelve years. Some relationships grow weary and worn, but for Adelaide duo The Yearlings (Robyn Chalklen and Chris Parkinson), passing time has only distilled their unique brand of Australian alt. country, steeped in Americana traditions.
After spending the past four years sharing their brooding ballads, rolling roots and haunting harmonies with local and international audiences, The Yearlings have returned with their fifth studio album, ALL THE WANDERING, a ten-song collection which showcases their quiet evolution.
Dark and sparse, yet full to the brim with imagery and atmosphere, ALL THE WANDERING was recorded to 2-inch tape on a vintage Studer 24-track tape machine; its soul every bit as old as the machinery on which it was captured. Evocative stories of country, travel, love and longing are cradled by the subtle, yet substantial grooves of bassist Harry Brus (Renee Geyer, Jimmy Barnes) and drummer BJ Barker (Kasey Chambers). There is more diesel in the tank, but The Yearlings' trademark fragility and spaciousness remains, masterfully captured by iconic Adelaide sound engineer Mick Wordley.
ALL THE WANDERING is bookended by two standout tunes: the expansive, yearning title-track 'All The Wandering' and the pensive, horn-infused 'Breathless Eric'. The eight songs between seamlessly shift with a calm, unifying conviction from the gentle, encouraging 'Heart of It All', the swaggering and wistful 'Soldier's Fortune to the dark and distorted 'Way Out East' and mesmerisingly drowsy 'Valley of the Souls'. 'What Becomes of Love' may just be the hidden hit with its languid, perfect harmonies and bittersweet, timeless lyrics. ALL THE WANDERING is an album that will sweetly haunt you far beyond its end.
"We wanted a 'widescreen' sound for this record: fat drums, a female choir, horns and clear acoustic guitars so it would drip with atmosphere," says Chris Parkinson.
ALL THE WANDERING by THE YEARLINGS is due for release on Tuesday 10 June through Vitamin Records. The Yearlings will be touring major cities and regional centers throughout July and August. 

"Brooding, country folk. Chalklen's voice can haunt you for days."
- Bernard Zuel, The Sydney Morning Herald
"The Yearlings express the lyrical truth of storylines about real life that poetically tug at the heartstrings."
– Jimmy Little 
 
Rhythms Magazine review, Marty Jones