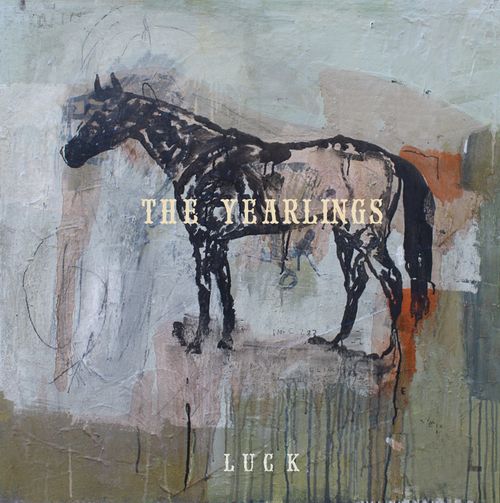 The first Yearlings full length album in 9 years available on Vinyl, CD and digital download via bandcamp.
The Yearlings are thrilled to announce their brand-new and much-awaited album LUCK is available now on Little Secret Records through MGM.  
LUCK was recorded live to tape in just a couple of days in the Australian winter of 2022. Robyn Chalklen and Chris Parkinson joined forces with long-time friend & collaborator Lucie Thorne as producer for the project, and together with Hamish Stuart (drums) and James Haselwood (bass) LUCK sprang to life with energy and ease. 
A rich, warm and shimmering sonic journey of great songs by great players, LUCK was tracked live to tape by The Yearlings' long-standing recording compadre Mick Wordley at Mixmasters in South Australia, and completed by the nuanced mixing wizardry of Chris Shaw (Bob Dylan, Sheryl Crow, etc etc) in Austin, Texas. 
There is deep symbiosis here. The band sound like they have been playing together forever, but in fact these 2 days of tracking were the very first time. The strength and authority of the songwriting is next level. The performances are delicious. 
The Yearlings have been making music together for some mighty fine years, and LUCK is their sixth studio album, but they've never made a record that sounds like this before. 
LUCK is a tender and wild 40 minute ride that covers some serious ground. 
Lean on in...
Order your copy now 
Limited edition Vinyl, CD or Digital
via Bandcamp
THE YEARLINGS  - LUCK
Reviewed by: Noel Mengel 
"This duo have been delivering finely crafted albums since 2002, hitting a creative high with 2014's superb All The Wanderings, the kind of album which seems to get better and better with the years." 
The Yearlings have returned with new record, Luck, which finds them working with the great Australian songwriter Lucie Thorne as producer, recording with the superb rhythm section of drummer Hamish Stuart and James Haselwood. 
If you have enjoyed the sound of Thorne's albums you will be dazzled by these 10 tracks, the kind of music that you could imagine played at an intimate show on a farmhouse verandah, or coming from the speakers providing the company on a backroads drive to town on a Saturday night. 
Sure, there is still some folk and country at its core, but this is the kind of music that sits well in a record stack with others who go their own way in that world, from Emmylou Harris to Lucinda Williams, Neil Young and The Jayhawks. 
If you are not a music-maker you might find it extraordinary that this is music made by a quartet playing together for the first time at the recording session yet sounding like they have known each other for a lifetime. 
But since we are mostly music-makers here, it is nice to be assured that these are the kind of creative sparks which can happen precisely because the musical partnership is so new: when muscle memory – all those gigs, miles, rehearsals, recordings – collide with high-quality songwriting. 
For a sample, check the searing Donnie Darko, where blackbirds eat the soul and the black dog nips at the heels. "Gonna drive 'til the river runs dry," Chalklen sings, "Gonna drive 'til the red light comes on." 
Piercing the darkness like a headlight is Parkinson's incandescant electric guitar, searching ahead in a blaze of pure tube amp tones and reverb, the kind of thing Neil Young finds in his finest moments out on the ranch with Crazy Horse. This is guitar-work beyond mere melody and technique, a pure connection with emotion. When the song concludes after six minutes, it feels like that crisp, perfect sentence at the end of a short story that leaves you wondering what happens next. 
The opening Downtown is sweet and soulful, the voices of Parkinson and Chalklen locked in tight together; Stuart's brushes up high in the mix. It's a sign too that while melancholy is on the road ahead, there is always joy to be found in the music. 
Gone are the Days is a song of loss and healing, Parkinson's electric guitar tones building like a storm around Chalklen's aching vocal performance. 
Luck — mostly bad – inhabits this story of hard times on the land, a silvery baritone capturing the loneliness that life can bring; Angel's Feet puts Parkinson's voice up front; Old Friend reflects on lost friendship with some of the sweetest female-male harmonising you will hear this year. 
Walking on the Wind is a mid-tempo tune with the kind of irresistible groove and shimmering guitars once found on Chris Isaak's finest recordings. 
The Yearlings have always delivered lessons in understated songcraft, but they sound refreshed here in the company of Stuart and Haselwood. The road is still dusty, sure, but these wide horizons are something else: richly detailed songs delivered with maximum emotional effect.
THE YEARLINGS 
Luck (Little Secret Records),  Reviewed by Bernard Zuel 
The music industry loves a summer record, those bright and breezy bits of fun that replicate heat on the skin, something cold and alcoholic in the hand, and not much more on the brain than how to get one or both again with someone of a similar disposition, or at least similar availability. 
Yes, this is despite the fact, at least in the southern hemisphere, that summer contains Christmas and NYE, two of the most stressful times for people suffering from loneliness, unhappiness, family traumas and loss. Anyway, summer's for outdoor songs and chasing the fun, and that's official. 
The Yearling's Luck ain't one of them. 
This is a winter record. An indoor record. While it isn't grim and grey, nor ladened with some unquenchable grief – really, what kind of winter are you having? You do need to get out some more – it is a close the door to the chill sneaking in the cracks, tell me a story while we're together, caught under a low sky, low light, low movement record. 
Robyn Chalklen and Chris Parkinson sing of lifelong friendships torn by death (Gone Are The Days) and a relationship that might only survive by separation (It Won't Be Long). They explore indifference that may only be changed by violence (Only) and lives where no matter how much attention is paid, nothing will change (Luck). These are stories told with understanding, their not-yet-weathered voices having just enough weariness. 
Not everything has a hue of sadness mind you. There is tender, hopeful love (Downtown), alongside remembered, wistful love (Santa Monica) and warm traces of joy can be felt under an autumnal absence that remains unexplained (Old Friend). Even death can come with a sense of acceptance that is almost like peace (Angel's Feet). These stories are told with intimacy, their lightly tethered voices beckoning you in. 
Interestingly though, as closed-in-winter as it is, sonically Luck is the most expansive, least claustrophobic album the pair have made. It still indoors, but it's a little more crowded.